DevOps
Introduction to Digital Business Transformation
Automation Glossary
DZone: Defining Day-2 Operations Day-2 operations is where the system generates an outcome for the organization. Thus, continually seek improvements in day-2 operations, to maximize benefits.
Blogs
Podcasts
Training
Spanish
Automation anxiety
Sysadmins and engineers may have personal fears about adopting automation, as much of their typical day revolves around the manual tasks and processes that automation promises to eliminate. Automation anxiety is the fear that if these tasks can be handled by automated tools, there will no longer be any reason to keep a person in that role. Nobody likes being automated out of a job.
Automation anxiety is largely unfounded, however, as automating manual tasks frees up people's time that can instead be used to work on more innovative, more strategic and higher value projects.
State of DevOps. Google's DevOps Research and Assessment (DORA)
AIOps
Configuration Drift
Drift Detection Tools
env0.com: Automated Drift Detection 🌟 env0 is enabling the ability to automatically detect drift and make sure your real-world resources in the cloud provider are aligned with your Infrastructure as Code files. env0 will alert you once a drift has been detected and gives you the ability to view and fix the drift, which can help mitigate one of the main challenges when using Infrastructure as Code!
DevOps Docs
opensource.com: The case for making the transition from sysadmin to DevOps engineer 🌟 There's a learning curve, but there's no time like the present to get started.
opensource.com: The case for making the transition from sysadmin to DevOps engineer There's a learning curve, but there's no time like the present to get started.
opensource.com: How to transition into a career as a DevOps engineer Whether you're a recent college graduate or a seasoned IT pro looking to advance your career, these tips can help you get hired as a DevOps engineer.
opensource.com: A beginner's guide to everything DevOps 🌟 Take a fresh look at why DevOps is important, what it means for IT professionals, and its methods, frameworks, and tools.
Corporate culture complicates Kubernetes and container collaboration 🌟 'As the DevOps crew likes to say: containers won't fix your broken culture'
dzone: Are You Stuck in the New DevOps Matrix From Hell? 🌟 See how Docker solved the matrix-from-hell problem, and how DevOps techniques can help avoid the config sprawl that comes with microservices.
kenmugrage.com 🌟 DevOps: A culture where people, regardless of title or background, work together to imagine, develop, deploy and operate a system.
opensource.com: 10 tips for maintaining a DevOps mindset for distributed teams You can do DevOps while working from home; it's all about the right approach.
DevOps engineers: Common misconceptions about the role What qualities and skills define a future-ready DevOps engineer? Hint: It's about people, not code deployment.
DevOps for beginners: Where to start learning and focusing Where to start with DevOps? Let's explore how to get going with this cross-functional way of working that breaks down walls, improves speed of delivery, and increases experimentation.
dzone: Why Now Is the Time for the Spring Boot of Infrastructure Automation 🌟 Application teams move fast using frameworks built to boost developer productivity. Learn how a productivity framework can help your DevOps initiative succeed.
itprotoday.com: Is the DevOps Model Killing the Developer? In a Word, No The rise of the DevOps model means that app environments are moving faster and running on a larger scale than they did a decade ago.
Digestible DevOps: The 7 DevOps Practices Breaking down DevOps into practical chunks for real-world implementation.
red-gate.com: Automated Production Deployments are Not the Key to DevOps Performance There's a myth about DevOps which is hard to shake free of: that "success" means fully automating your deployments from code check-in to production.
Hating code of others We struggle to appreciate the meaning and intent of other people's work because we fail to understand the deeply personal and subjective quality of software development.
dzone: DevOps Guide: Implementing Four-Eyes Principle With Process Automation Tooling With great power comes great responsibility. More and more organisations are moving towards a DevOps based organisational model, putting more and more respon…
medium: The Complete DevOps RoadMap 🌟 An illustrated guide to becoming a DevOps Engineer with links to relevant courses
computing.co.uk: CloudBees gets busy with security, visibility and control as DevOps evolves CEO Sacha Labourey: 'DevOps is a pretty good proxy for what needs to happen in any organisation'
forbes: Why No One Understands Agile, SCRUM & DevOps & Why Perfect Technology Abstractions Are Sure To Fail
cloudtweaks.com: DevOps - Secure & scalable CI/CD pipeline with AWS 🌟 Devops is a union of software development and operations. It is a culture that the company imbibes in the agile development process.
medium: How to Become an DevOps Engineer in 2020 How to get started with a career in DevOps.
medium: How to Become a DevOps Engineer in 2020 Your guide to getting started in a career in DevOps.
informationweek.com: What's Holding DevOps Back? DevOps teams are at different stages of maturity. However, there are some common challenges they face along the way.
opensource.com: Create a DevOps culture with open source principles Now that more workforces are remote, DevOps teams can maximize their collaboration and productivity by following open source principles.
opensource.com: 3 critical DevOps concepts we explored in 2020 🌟 In 2020, Opensource.com's top DevOps articles focused on testing, software methodologies, and the most important part: the people.
sysadmin.prod.acquia-sites.com: 10 container guides for sysadmins Containers continue their quest to take over the world, and these 10 articles help you manage this technology.
dzone: 15 DevOps Trends to Expect in 2021 🌟 This is a round-up article where we collected opinions from 15 DevOps experts on what they think will be a trend in 2021 with context to DevOps.
dzone: DevOps is not just automation! 🌟 While every day we are talking about different technologies, tools, and methods under the name of DevOps, we should not forget the in-depth meaning of DevOps.
opensource.com: A DevOps guide to documentation Bring your documentation writing into the DevOps lifecycle.
infoq.com: DevOps is Not Enough for Scaling and Evolving Tech-Driven Organizations: a Q&A with Eduardo da Silva
itproportal.com: How to implement DevOps successfully in 2021 🌟 The question isn't whether or not companies should adopt DevOps, but how to successfully.
dzone: 4 Mistakes to Avoid When Implementing DevOps While many companies are starting to reap the benefits of DevOps, there are also a number of pitfalls companies might step in resulting in a lack of business outcome.
stackoverflow.blog: How developers can be their own operations department Many companies run parallel development and operations organizations. But what if you just ran one team that did both?
redhat.com: Tales from the field: A system administrator's guide to IT automation Download this collection of short stories about the excitement, frustrations, and challenges associated with learning IT automation.
forbes.com: DevOps: What You Need To Know 🌟 The future of DevOps according to CloudBees' CEO: "no company should re-write code that you can repeat through automation."
zdnet.com: Stop calling DevOps teams 'DevOps teams' 🌟🌟 Latest Puppet survey finds DevOps teams actually have a variety of roles that are more in line with business goals.
intellipaat.com: What Does a DevOps Engineer Do? 🌟 DevOps assimilates development and operations teams to improve the collaboration process. A DevOps Engineer will work with IT developers to facilitate better coordination among operations, development, and testing functions by automating and streamlining the integration and deployment processes.
siliconangle.com: 'DevOps for Dummies' author Emily Freeman introduces revolutionary model for modern software development
Its a culture, concept, process and approach that merges software requirement gathering, software development, testing, quality assurance, system configurations, product deployment and operations. Organizations building or improving software products are moving towards a DevOps approach where development, testing, security, quality assurance and operations are getting merged within a large team and those technical resources work side by side to achieve higher return on investment
DevOps is one of the most broad topics within software dev because it lacks boundaries and limitations. Many technologies, tools, concepts, processes and ideas converge to give a good DevOps pipeline and DevOps process resulting in agile planning, continuous integration, continuous delivery, and high level monitoring of your enterprise level software systems. Hence, devops is not a single role or even a team's work that deals with all the technologies and processes. It a mixture of culture, traditions and process.
github.blog: 5 DevOps tips to speed up your developer workflow 🌟 From learning YAML to scripting with Bash, here are a few simple tips for developers who want to speed up their workflows.
itproportal.com: Stop messing up with CI/CD vs. DevOps and learn the difference finally When asking development pros to weigh in on the concept of DevOps, and share their views, we realised one thing.
blog.udemy.com: Becoming a DevOps Engineer: Understanding the Role and Responsibilities The title "DevOps Engineer" itself is confusing, and no one can agree on what precisely a DevOps Engineer is (or does). So, for now, let's list some typical activities you might have in this role:

Providing leadership and guidance for reducing the time it takes to deploy a software change.
Managing CI (continuous integration) systems and pipelines.
Creating automated software builds and testing.
Designing and implementing infrastructure.
Automating infrastructure buildout and maintenance.
Managing and enhancing logging and monitoring systems.
Providing developers with self-service tools for provisioning systems, deploying code, and running tests.

simform.com: How to Implement DevOps for Enterprise? This blog focuses on how to implement DevOps for enterprise-level organizations.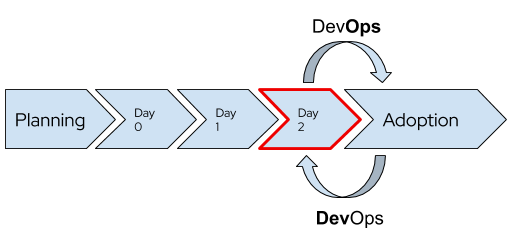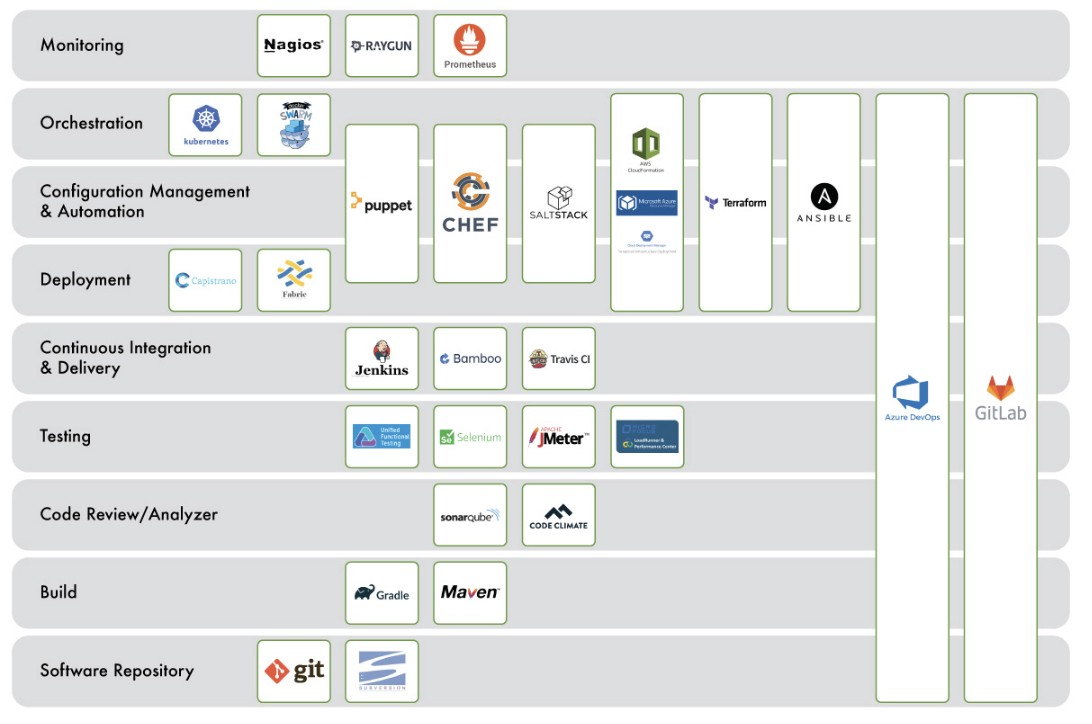 Serverless DevOps
DevOps as a Service (DaaS)
DevOps as a Service: Migrating Your Entire DevOps Stack to the Cloud The goal of DaaS is to enable organizations to focus on developing and delivering software without having to worry about managing or maintaining tools. It is designed to abstract away the intricacies of tool integration, deployment and maintenance. This enables teams to focus on higher-level tasks, and outsources significant manual effort.
IaC Infrastructure as Code
Xebia Labs and DevOps
DevOps Tools
Netflix and DevOps
Public Cloud DevOps
AWS DevOps
Azure DevOps
Google Cloud Platform
NoOps
NetOps
PlatformOps
GPT 3 Tools
dzone: 3 GPT-3 Tools for Developers, Software and DevOps Engineers, and SREs This article will explore GPT-3 applications in the developer space to discuss how GPT-3 can help DevOps Engineers, SREs, technical customer support, and developers.

Zebrium Monitoring detects problems, Zebrium finds root cause Resolve your software incidents 10x faster
Debuild Debuild is a tool that lets you generate functional web apps from a simple English description.
seekwell SeekWell helps write SQL requests and synchronizes the results to the apps your team operates in.
Data as Code
DevOps for SAP
Youtube Playlists
Bunch of Images
Click to expand!
Slides
Click to expand!



Videos
Click to expand!
Tweets
Click to expand!

It drives me nuts when people say "DevOps" when they really mean "Ops." Ops didn't just disappear, folks.

— emily freeman (@editingemily) June 15, 2021

@HelmPack can hide some deep K8s knowledge.@crossplane_io does the same for infrastructure, best practices Postgres can be as simple as provide the version and the size. A game-changer for platforms

— Omer Kahani (@OmerKahani) August 17, 2021

Working on infrastructure is to keep things boring.

— Jaana Dogan ヤナ ドガン (@rakyll) September 17, 2021

Progress! pic.twitter.com/FB7v3OOdsf

— Richard Campbell (@richcampbell) October 29, 2021

Automation tools don't reduce cloud complexity, they embrace it.

— Kelsey Hightower (@kelseyhightower) November 16, 2021

Artem Kobrin from @NTTDATAServices presents their multi-stage blue-green deployments with @keptnProject and @argoproj in #Kubernetes. Nice pipelines😍 #keptnUserGroup pic.twitter.com/E1eDMoxcDz

— Oleg Nenashev (@oleg_nenashev) November 16, 2021

I like to architect cloud. What do you love - DevOps or architect?

— Satyen Kumar (@SatyenKumar) February 3, 2022

Few things you must absolutely know about DevOps
1⃣ DevOps is a software development lifecycle (SDLC) approach which involves
🧩Continuous integration
🧪Continuous testing
🚚Continuous Delivery
🛫Continuous deployment
🔎Continuous monitoring
throughout its development phase.
🧵 pic.twitter.com/I38Ntqryeq

— Satyen Kumar (@SatyenKumar) February 23, 2022

Interview on Austrian TV 😊 Talked about how we started our YouTube channel, as a temporary side project, which turned into this amazing and fulfilling job of educating people in DevOps engineering 💙
.
Full interview on @4Gamechanger: https://t.co/3jViGROFTP😊#devops #youtube pic.twitter.com/FIb8DubPup

— TechWorld with Nana | DevOps 🚀 (@Njuchi_) March 19, 2022
Drone flight through the#GigaBerlinBrandenburg @Tesla pic.twitter.com/7yCehZl5G3

— Gigafactory Berlin-Brandenburg 🕊🇺🇦 (@Gf4Tesla) March 25, 2022