GitOps
Introduction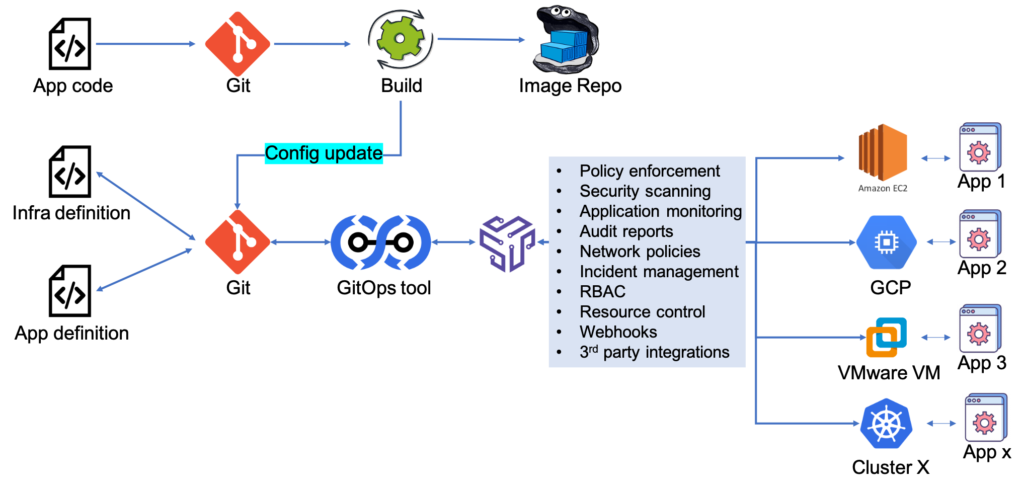 GitOps Working Group
The Five GitOps Principles (as defined by the GitOps Working Group) to the lifecycle of an infrastructure resource, like a virtual machine or load balancer:

Declarative Configuration (define the resource as code)
Version controlled (use source control to manage the resource definition)
Automated delivery (provision and manage the resource from the definition using automation)
Software Agents (implement automated configuration management for the resource)
Closed loop (build the delivery pipeline for integration testing for resource changes)
Git Repositories Structures
GitOps Tools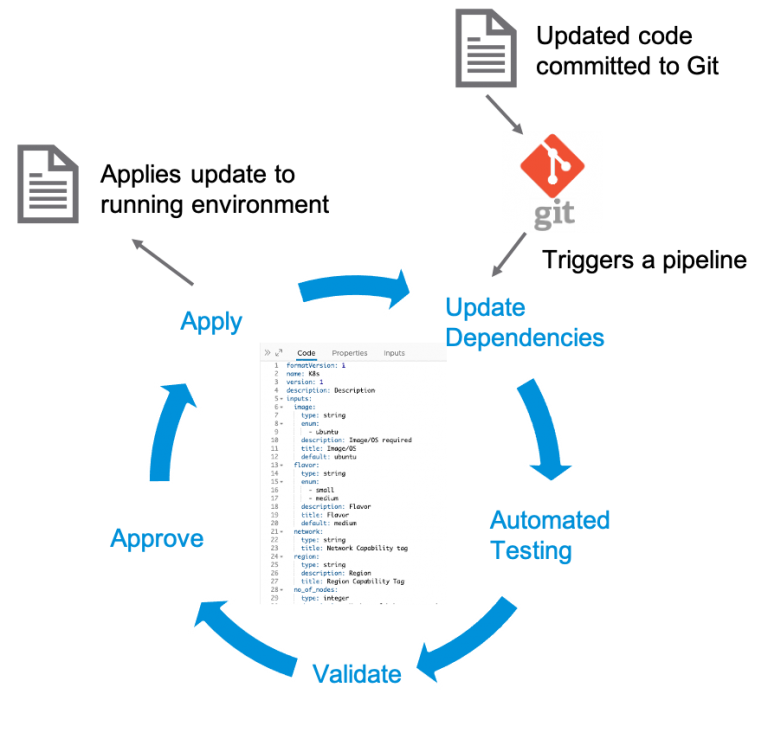 Flux. The GitOps Operator for Kubernetes
Kustomize. Kubernetes native configuration management
kustomize.io 🌟 Kustomize introduces a template-free way to customize application configuration that simplifies the use of off-the-shelf applications. Now, built into kubectl as apply -k.
Flagger
Flagger Progressive Delivery Operator for Kubernetes. Release new versions of your application/services to Kubernetes like a pro with Weaveworks's Flagger.
WKSctl. Weave Kubernetes System Control
Helm
Jenkins
Terraform
Config Sync and Anthos Config Management
Google built a tool called Config Sync which acts as the bridge between an external source code repository and the Kubernetes API server. Anthos Config Management is based on Config Sync to extend it to multicluster scenarios.
Portworx AutoPilot
OpenShift Applier
HashiCorp Waypoint
waypointproject.io Waypoint provides a modern workflow to build, deploy, and release across platforms. Waypoint uses a single configuration file and common workflow to manage and observe deployments across platforms such as Kubernetes, Nomad, EC2, Google Cloud Run, and more.
hashicorp.com: Using Waypoint Runners To Enable GitOps Workflows Waypoint runners perform builds, deployments, poll for Git repository changes, and allow deployments for any platform.
Weave GitOps
Weave GitOps Enterprise

Weave GitOps Enterprise is a continuous operations product that makes it easy to deploy and manage Kubernetes clusters and applications in any environment. With a single management console that lets you operate clusters running anywhere, in the public cloud, on the edge or in any hybrid scenario. Strong multi-tenancy can accelerate app delivery by providing developers with self-serve isolated workload namespaces across environments.
With Weave GitOps Enterprise, every change is recorded in Git – whether it's a change to application code or platform config and whoever was responsible. So you have a self-generating audit trail available at all times, and far fewer…
GitOps Frameworks
dzone: Why Now Is the Time for the Spring Boot of Infrastructure Automation 🌟 Application teams move fast using frameworks built to boost developer productivity. Learn how a productivity framework can help your DevOps initiative succeed.
Kubestack 🌟: Doc: Kubestack is an open-source GitOps framework for infrastructure automation built on Terraform and Kustomize. It's designed for teams that want to automate Kubernetes based infrastructure and not reinvent automation. Think of it this way, Kubestack is to Terraform and infrastructure automation, what Spring Boot is to Java and cloud native applications. The framework supports all three major cloud providers and has been used as the foundation for a number of real world customer projects as part of my colleagues' and my consulting work. It is fully documented, has a step-by-step tutorial to help users get started and even includes a local GitOps development lab. So you can test-drive Kubestack and learn more about GitOps for infrastructure automation in the comfort of your own localhost.
Kubernetes Platforms and GitOps
OpenShift GitOps
AWS Kubernetes
Weave Kubernetes Platform
Ubuntu Charmed Kubernetes
Tweets
Click to expand!

THREAD: What is GitOps?

Is this something that you should learn?

Let's dive into it. pic.twitter.com/hsMUesvP23

— Daniele Polencic (@danielepolencic) July 29, 2020

If you do a canary release on #Kubernetes with #Istio use Flagger (https://t.co/4s6NFwvaXz). It allows e.g.:
🔹 run acceptance and load tests
🔹 do an automatic rollback
🔹 make a progressive traffic shifting

— Piotr Mińkowski (@piotr_minkowski) September 17, 2021

If it takes me 5 minutes to rename a method and 1 hour to get a review and PR approval, that means wait to processing time ratio is 60/5=12, and flow efficiency is only 7.7%.

Do you really think that a system this inefficient is incentivizing refactoring and small steps?

1/4

— Dragan Stepanović (@d_stepanovic) December 24, 2021
Videos
Click to expand!

Hybrid and Multi-Cloud Strategies for Kubernetes with GitOps from Weaveworks on Vimeo.