Kubernetes Plugins, Tools, Extensions and Projects
Introduction
K8s Tools
Penetration Testing Tools
intellipaat.com: What is Penetration Testing? Penetration testing is otherwise referred to as pen testing. This blog on 'What is Penetration Testing? - Types, Phases, Tools Explained' discusses in detail what pen testing is and how it works, the numerous tools involved in this field, and so on. This blog aims to give you an insight into pen testing and how Ethical Hackers use it for the purpose of Cyber Security. Let's dive right in.
quarkslab/kdigger kdigger is a context discovery tool for Kubernetes penetration testing.
inguardians/peirates Peirates - Kubernetes Penetration Testing tool
Deckhouse Kubernetes Platform
Deckhouse: NoOps Kubernetes platform 🌟 Deckhouse is an Open Source platform for managing Kubernetes clusters in a fully automatic and uniform fashion. It allows you to create homogeneous Kubernetes clusters anywhere and fully manages them. It supplies all the add-ons you need for auto-scaling, observability, security, and service mesh. It comes in Enterprise Edition (EE) and Community Edition (CE).
KubeIP (GKE)
kubeip.com Many applications need to be whitelisted by users based on a Source IP Address. As of today, Google Kubernetes Engine doesn't support assigning a static pool of IP addresses to the GKE cluster. Using kubeIP, this problem is solved by assigning GKE nodes external IP addresses from a predefined list. kubeIP monitors the Kubernetes API for new/removed nodes and applies the changes accordingly.
Many applications need to be whitelisted based on a Source IP Address.
Using kubeIP, you can assign external IP addresses from a predefined list to GKE nodes. kubeIP monitors the Kubernetes API for new/removed nodes and applies the changes
doitintl/kubeIP Assign static external IPs from predefined pool of external IP addresses to Google GKE nodes so your customers could whitelist them
Porter
Porter Package your application artifact, client tools, configuration and deployment logic together as a versioned bundle that you can distribute, and then install with a single command - github.com/getporter/porter
Datree. Quality Checks for Kubernetes YAMLs
Datree.io Datree prevents kubernetes misconfigurations from reaching production. Datree is a CLI solution that supports kubernetes owners in their roles, by preventing developers from making errors in k8s configurations.
dev.to: CI With Datree Learn all about Datree, the leader in Kubernetes static code analysis; Helm chart analysis; and how to ensure that all manifest configurations are working properly in a Continuous Integration (CI) build process. youtube: CI and Building Code With Datree
Kaniko Build Images in Kubernetes without docker
Shipwright Framework for Building Container Images on Kubernetes
BuildKit CLI for kubectl
Buildpacks vs Dockerfiles
Kubevela
kubevela.io 🌟 KubeVela is a modern application platform that makes deploying and managing applications across today's hybrid, multi-cloud environments easier and faster. KubeVela is runtime agnostic, natively extensible, yet most importantly, application-centric .
blog.logrocket.com: Intro to KubeVela: A better way to ship applications KubeVela makes deploying applications to Kubernetes much easier. Rather than knowing about service, deployment, pods, and horizontal pod scaling, you can specify a much lighter configuration.
Pixie. Instantly troubleshoot applications on Kubernetes
Dekorate. Generate k8s manifests for java apps
Kubesploit
github.com/cyberark/kubesploit 🌟 Kubesploit is a cross-platform post-exploitation HTTP/2 Command & Control server and agent dedicated for containerized environments written in Golang and built on top of Merlin project
Kubeshop
Kubeshop 🌟 First in the World Open-Source Accelerator/Incubator focusing on building project for Developers in the Kubernetes space
Monokle
KubeLibrary
KubeLibrary KubeLibrary is a RobotFramework library for testing Kubernetes cluster
kube-vip
kube-vip is a Load-Balancer for both inside and outside a Kubernetes cluster.
What's one of the biggest pain in implementing Kubernetes for on-prem? Lack of support for LoadBalancer Service. Now there's a second project (the first is MetalLB) that provides this functionality for on-prem: kube-vip.
Kubermetrics
oslabs-beta/kubermetrics Kubermetrics is an open-source dev tool that provides Kubernetes cluster monitoring as well as data visualization in a simple and easy to understand user interface. Kubermetrics intergrates both the Prometheus and Grafana Dashboards on one page! Allowing for custominzable dashboards and alerts.
Kustomizer
kustomizer Kustomize build, apply, prune command-line utility. Kustomizer is a command-line utility for applying kustomizations on Kubernetes clusters. Kustomizer garbage collector keeps track of the applied resources and prunes the Kubernetes objects that were previously applied on the cluster but are missing from the current revision.
MetalLB
Kubermatic Kubernetes Platform
Kubermatic Kubernetes Platform 🌟 is an open source project to centrally manage the global automation of thousands of Kubernetes clusters across multicloud, on-prem and edge with unparalleled density and resilience.
Kubermatic Kubeone
kubermatic/kubeone 🌟 Kubermatic KubeOne automate cluster operations on all your cloud, on-prem, edge, and IoT environments.
youtube.com: How to Write Software That Sets Up Kubernetes Anywhere with Kubermatic Kubeone Kubernetes is a complex system. But installing Kubernetes doesn't need to be hard. In this short clip, our Software Engineer Marko Mudrinić explains how to use existing tools to make tasks easier for you. He provides you with some insights on the learnings we made while creating KubeOne, an open source and infrastructure-agnostic cluster lifecycle management tool for single and HA Kubernetes clusters.
Usernetes
k8syaml.com
Komodor Workflows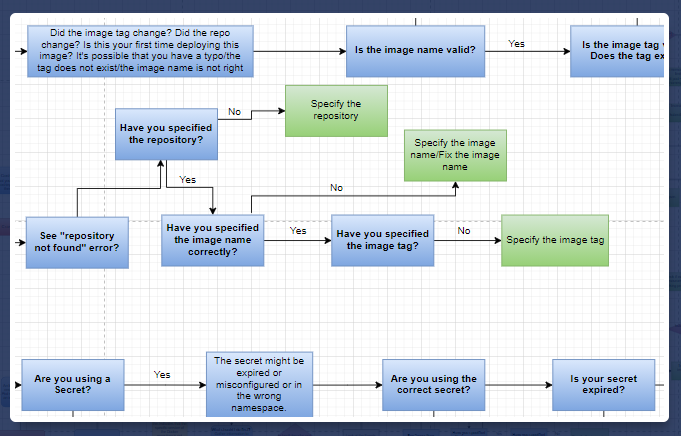 Popeye
Popeye - A Kubernetes Cluster Sanitizer 🌟🌟 Popeye is a utility that scans live Kubernetes cluster and reports potential issues with deployed resources and configurations. It sanitizes your cluster based on what's deployed and not what's sitting on disk. By scanning your cluster, it detects misconfigurations and helps you to ensure that best practices are in place, thus preventing future headaches. It aims at reducing the cognitive overload one faces when operating a Kubernetes cluster in the wild. Furthermore, if your cluster employs a metric-server, it reports potential resources over/under allocations and attempts to warn you should your cluster run out of capacity.
kbrew
kbrew kbrew is homebrew for Kubernetes. kbrew is a CLI tool for Kubernetes which makes installing any complex stack easy in one step (And yes we are definitely inspired by Homebrew from MacOS)
KubExplorer
Kubescape
Kubescape 🌟 kubescape is the first tool for testing if Kubernetes is deployed securely as defined in Kubernetes Hardening Guidance by to NSA and CISA. Tests are configured with YAML files, making this tool easy to update as test specifications evolve.
Kubectl Connections
Benchmark Operator
Source-To-Image (S2I)
openshift/source-to-image A tool for building artifacts from source and injecting into container images. Source-to-Image (S2I) is a toolkit and workflow for building reproducible container images from source code. No writing a bunch of YAML to build your container.
VMware Tanzu Octant
vmware-tanzu/octant Highly extensible platform for developers to better understand the complexity of Kubernetes clusters. Octant is a tool for developers to understand how applications run on a Kubernetes cluster. It aims to be part of the developer's toolkit for gaining insight and approaching complexity found in Kubernetes. Octant offers a combination of introspective tooling, cluster navigation, and object management along with a plugin system to further extend its capabilities.
Qovery Engine
Qovery/engine: Qovery Engine 🌟 Qovery Engine is an open-source abstraction layer library that turns easy apps deployment on AWS, GCP, Azure, and other Cloud providers in just a few minutes. The Qovery Engine is written in Rust and takes advantage of Terraform, Helm, Kubectl, and Docker to manage resources.
mck8s Container orchestrator for multi-cluster Kubernetes
moule3053/mck8s mck8s, short for multi-cluster Kubernetes, allows you to automate the deployment of multi-cluster applications on multiple Kubernetes clusters by offering enhanced configuration possibilities. The main aim of mck8s is maximizing resource utilization and supporting elasitcity across multiple Kubenetes clusters by providing multiple placement policies, as well as bursting, cloud resource provisioning, autoscaling and de-provisioning capabilities. mck8s builds upon other open-source software such as Kubernetes, Kubernetes Federation, kopf, serf, Cilium, Cluster API, and Prometheus.
Shipwright framework
shipwright-io/build: shipwright A framework for building container images on Kubernetes.
With Shipwright, developers get a simplified approach for building container images, by defining a minimal YAML that does not require any previous knowledge of containers or container tooling. All you need is your source code in git and access to a container registry.
Shipwright supports any tool that can build container images in Kubernetes clusters, such as:

Kaniko
Cloud Native Buildpacks
BuildKit
Buildah
Schiff (Deutsche Telekom)
telekom/das-schiff This is home of Das Schiff - Deutsche Telekom Technik's engine for Kubernetes Cluster as a Service (CaaS) in on-premise environment on top of bare-metal servers and VMs.
NetMaker
NetMaker Netmaker makes networks with WireGuard. Netmaker automates fast, secure, and distributed virtual networks.
AWS Karpenter kubernetes Autoscaler
Karpenter Just-in-time Nodes for Any Kubernetes Cluster. Karpenter simplifies Kubernetes infrastructure with the right nodes at the right time. Karpenter automatically launches just the right compute resources to handle your cluster's applications. It is designed to let you take full advantage of the cloud with fast and simple compute provisioning for Kubernetes clusters.
Kuby (easy deployments of Ruby Rails App)
Kuby Deploy Your Rails App the Easy Way. Kuby is a convention-over-configuration approach to deploying Rails apps. It makes the power of Docker and Kubernetes accessible to the average Rails developer without requiring a devops black belt.
Direktiv
Direktiv Serverless Container Orchestration. Diretiv is a serverless workflow and automation engine running on Kubernetes and Knative. Direktiv is the equivalent of AWS Step Functions, or Google Cloud Workflows or Alibaba Serverless Workflows. The difference between Direktiv and the cloud provider workflow engines is that Direktiv is cloud & platform agnostic, runs on kubernetes and executes containers as "plugins".
Jabos
Pleco
Qovery/pleco Automatically removes Cloud managed services and Kubernetes resources based on tags with TTL
Mesh-kridik
(chen-keinan/mesh-kridik)[https://github.com/chen-keinan/mesh-kridik] mesh-kridik is an open-source security checker that performs various security checks on a Kubernetes cluster with istio service mesh and is leveraged by OPA (Open Policy Agent) to enforce security rules.
kubewatch
bitnami-labs/kubewatch Watch k8s events and trigger Handlers. kubewatch is a Kubernetes watcher that currently publishes notification to available collaboration hubs/notification channels. Run it in your k8s cluster, and you will get event notifications through webhooks.
Botkube
botkube.io BotKube is a messaging bot for monitoring and debugging Kubernetes clusters.
Robusta
Soup GitOps Operator
caldito/soup Soup is a GitOps operator for Kubernetes. GitOps continuous deployment and management tool for Kubernetes focused on simplicity.
Epinio
https://epinio.io The Application Development Engine for Kubernetes. Epinio is how you tame the developer workflow in Kubernetes to go from Code to URL in a single step.
epinio/epinio Opinionated platform that runs on Kubernetes, that takes you from App to URL in one step.
Testkube
KuberLogic
kuberlogic Kuberlogic is an open-source product that deploys and manages software on top of the Kubernetes cluster and turns infrastructure into a managed PaaS. KuberLogic is that allows running managed databases and popular applications deploying on-premises or at any cloud. The solution provides API, monitoring, backups, and integration with SSO right out of the box
Kusk
kubeshop/kusk: use OpenAPI to configure Kubernetes Kusk makes your OpenAPI definition the source of truth for API resources in your cluster. Kusk treats your OpenAPI/Swagger definition as a source of truth for generating supplementary Kubernetes resources for your REST APIs in regard to mappings, security, traffic-control, monitoring, etc.
Azure AD Workload Identity
Azure/azure-workload-identity Azure AD Workload Identity uses Kubernetes primitives to associate managed identities for Azure resources and identities in Azure Active Directory (AAD) with pods. It simplifies accessing Azure AD protected resources securely from Kubernetes workloads.
Kubernate
laurci/kubernate Kubernetes+Generate = Kubernate. Kubernate is a Kubernetes YAML generator that can be used as an alternative to other popular tools like Helm. Kubernate is distributed as a library and as a CLI, both working together to achieve one goal: Kubernetes as Code.
Tackle
Azure Placement Policy Scheduler Plugins
Azure/placement-policy-scheduler-plugins This scheduler enables cluster admins to offload some configurable percentage of their workloads to spot nodes enabling them to decrease the cost of running these pods without affecting their reliability.
Most of cloud environments today provides cluster admins with ephemeral nodes (VMs). These nodes typically cost significantly less but they offer less reliability than their regular counterpart. Cluster admins are often torn between the choice of cost and reliability because of the innate inability of the default Kubernetes scheduler to place some of a specific workload pods on these nodes. Having the entire workload on ephemeral nodes risks the reliability of the workload when the cloud environment stops these nodes. This scheduler enables cluster admins to offload some configurable percentage of their workloads on these nodes enabling them to decrease the cost of running these pods without affecting its reliability.
Azure AAD Pod Identity
MicroShift
microshift.io MicroShift is a research project that is exploring how OpenShift1 and Kubernetes can be optimized for small form factor and edge computing.
It requires only 2GB to run
You can run it as a container with Docker or Podman
It is a very trimmed version of OpenShift without many features
kubefwd (Kube Forward)
txn2/kubefwd Kubernetes port forwarding for local development.
kubefwd is a tool built to port forward multiple services within one or more namespaces on one or more Kubernetes clusters
kubefwd uses the same port exposed by the service and forwards it from a loopback IP address on your local workstation
Kpng. Kubernetes Proxy NG
Auto-portforward (apf)
ruoshan/autoportforward Bidirectional port-forwarding for docker, podman and kubernetes. A handy tool to automatically set up proxies that expose the remote container's listening ports back to the local machine. Just like kubectl portforward or docker run -p LOCAL:REMOTE, but automatically discover and update the ports to be forwarded on the fly. apf can create listening ports in the container and forward them back as well.
gardener/Terraformer
gardener/terraformer: Terraformer Executes Terraform configuration as job/pod inside a Kubernetes cluster. Terraformer is a tool that can execute Terraform commands (apply, destroy and validate) and can be run as a Pod inside a Kubernetes cluster. The Terraform configuration and state files (main.tf, variables.tf, terraform.tfvars and terraform.tfstate) are stored as ConfigMaps and Secrets in the Kubernetes cluster and will be retrieved and updated by Terraformer.
Werf
werf/werf The CLI tool gluing Git, Docker, Helm, and Kubernetes with any CI system to implement CI/CD and Giterminism. Werf is an Open Source CLI tool written in Go, designed to simplify and speed up the delivery of applications. To use it, you need to describe the configuration of your application (in other words, how to build and deploy it to Kubernetes) and store it in a Git repo — the latter acts as a single source of truth. In short, that's what we call GitOps today.
Starboard kubernetes-native security toolkit
aquasecurity/starboard Kubernetes-native security toolkit. Starboard is a completely open source tool that integrates with other security tools to scan your workloads and make security reports accessible through the Kubernetes API - K8s all the way 🚀
Netshoot
nicolaka/netshoot a Docker + Kubernetes network trouble-shooting swiss-army container. Purpose: Docker and Kubernetes network troubleshooting can become complex. With proper understanding of how Docker and Kubernetes networking works and the right set of tools, you can troubleshoot and resolve these networking issues. The netshoot container has a set of powerful networking tshooting tools that can be used to troubleshoot Docker networking issues. Along with these tools come a set of use-cases that show how this container can be used in real-world scenarios.
The Hierarchical Namespace Controller (HNC)
Kratix
syntasso/kratix Kratix is a framework for building Platform-as-a-Product.
Kratix is a framework that enables co-creation of capabilities by providing a clear contract between application and platform teams through the definition and creation of "Promises". Using the GitOps workflow and Kubernetes-native constructs, Kratix provides a flexible solution to empower your platform team to curate an API-driven, curated, bespoke platform that can easily be kept secure and up-to-date, as well as evolving as business needs change.
Kratix enables platform teams to deliver a Kubernetes-native platform API, over fleets of Kubernetes clusters.
Kratix is deployed to a platform cluster, and uses the GitOps Toolkit to orchestrate a topology of worker clusters.
gRPC-Gateway
KubeOrbit. Test your app on kubernetes
Mizu API Traffic Viewer for Kubernetes
up9inc/mizu API traffic viewer for Kubernetes enabling you to view all API communication between microservices to help your debug and troubleshoot regressions. Think TCPDump and Wireshark re-invented for Kubernetes.
vcluster
vcluster.com Virtual Kubernetes Clusters that run inside regular namespaces. Create fully functional virtual Kubernetes clusters - Each vcluster runs inside a namespace of the underlying k8s cluster. It's cheaper than creating separate full-blown clusters and it offers better multi-tenancy and isolation than regular namespaces.
Tweets
Click to expand!

One of the biggest problems in IT is that we keep reinventing the wheel.

We are running the same circles, producing similar technologies to solve the same problems.

Reinventing the wheel is a great way to learn how the wheel works, but not an efficient way to build software.

— Daniel Moka⚡ (@dmokafa) May 1, 2021

`kubectl logs --previous` saved my life pic.twitter.com/mIsCJehVwI

— memenetes (@memenetes) August 12, 2021

Tech industry thinks throwing more tools to the problem is the solution. More tools = more failure modes.

— Jaana Dogan ヤナ ドガン (@rakyll) October 23, 2021

Interesting developer tools & frameworks for #Kubernetes to learn in 2022:
🔹@telepresenceio - dev CLI
🔹@DevSpace - dev CLI
🔹@KnativeProject - #serverless platform
🔹@skaffolddev - dev CLI
🔹#KubeVela - @oam_dev platform
🔹@okteto - dev platform
🔹@QuarkusIO - #java framework

— Piotr Mińkowski (@piotr_minkowski) December 26, 2021
Videos
Click to expand!